Greetings from Reinventing The Tattoo!
Posted on Mon, September 12, 2016
This is the first of what will be a biweekly series of bulletins for Reinventing subscribers only. In it I'll be updating you on the newest and upcoming upgrades to the Reinventing The Tattoo content, plus sharing with you a recent project I've done where I can talk a little about the piece and the challenges that I faced in it, in a way that is relevant to the Reinventing core curriculum.
This past week I did the third pass on a massive full back coverup project. This piece is massive not only in terms of how much stuff had to be covered, but also just in sheer size, since my client is a large dude. In the before photo you can see what we were dealing with: A largish tribal piece in the center, lopsided and badly outlined, with raised scar tissue, along with a pair of big chunks of tribal black on each shoulder, some 4-inch tall lettering, and a necklace type thing that made for a line going around the upper back. Rather than just blasting over the whole mess, we opted for a design that made use of parts of the central tribal piece in a way that minimized our struggle and allowed for the central area of the back to appear clean and smooth without the murkiness that coverups sometimes have. The raised scarring in this area made that even more crucial.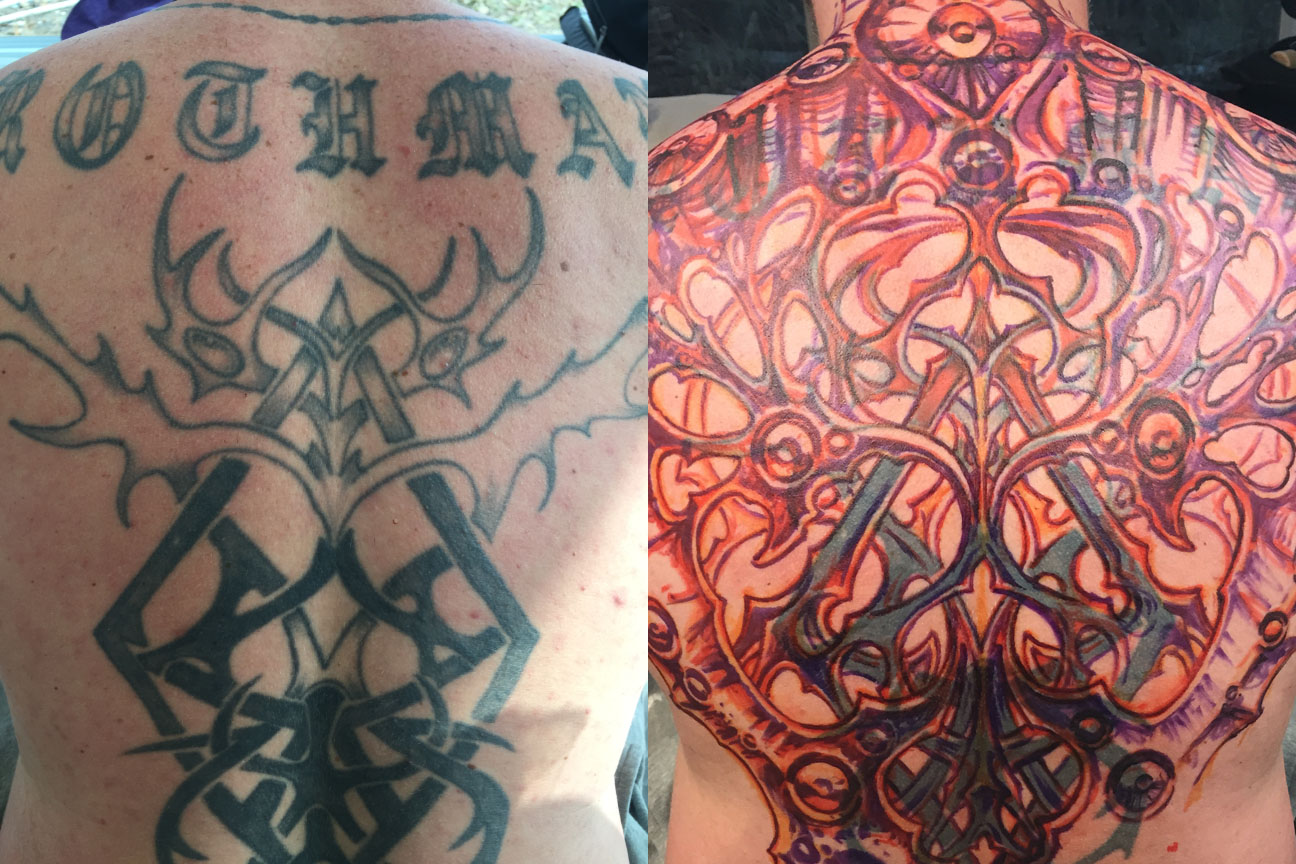 Every coverup project presents these kinds of challenges and opportunities. Some of the old work is often so dark and strong that it really pays to ask yourself if parts of it could be incorporated into the new design, while other parts can be more easily hidden. The goal is to find a balance between accepting what you can't change and changing what you can't accept. The parts of the old tribal work that we did incorporate were thoroughly reworked and changed in a way that allowed it to make sense in the context of the new piece. It also allowed us to give the tattoo a strongly balanced contrast of dark and light, which is key in making coverups appear strong and clean.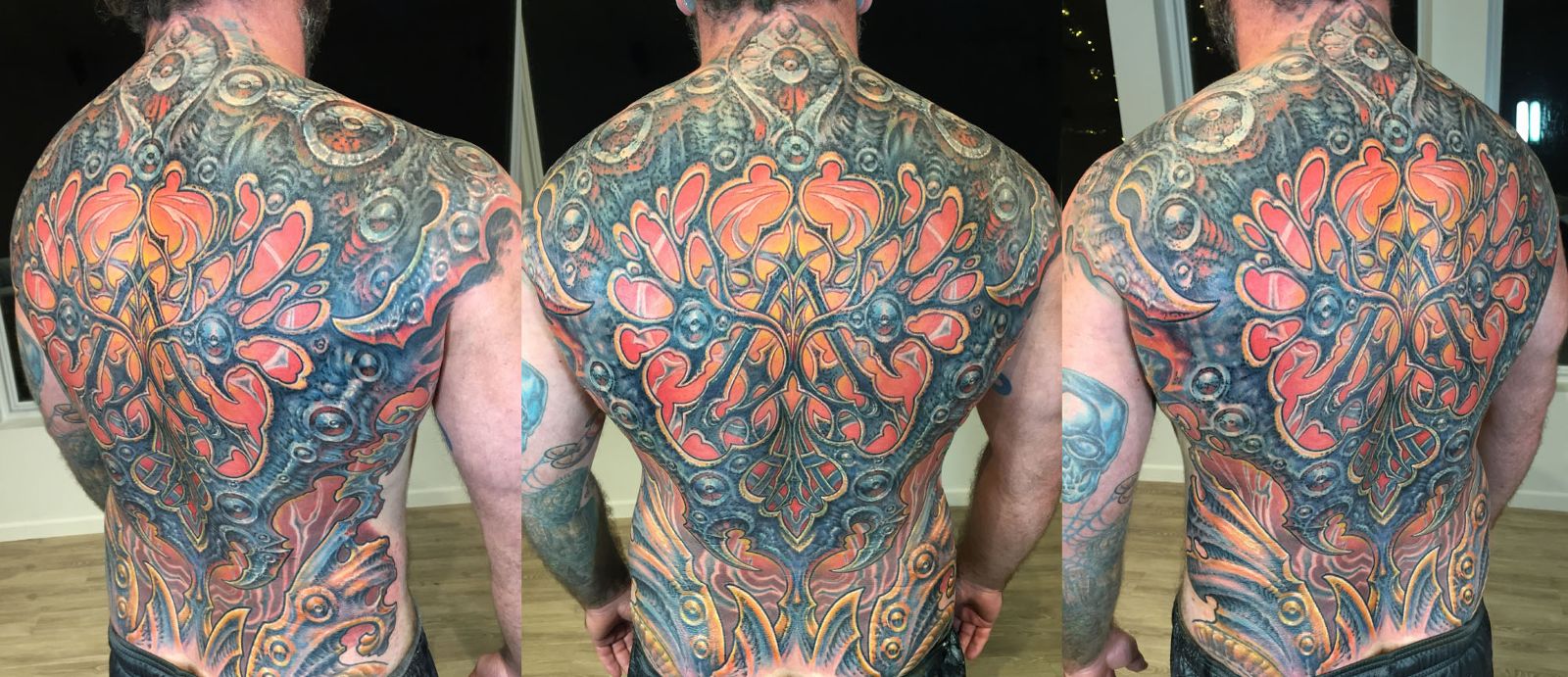 Many of you have already read the new section in Reinventing about coverup tattooing. This current project, which I expect to do a final pass on later in the year, will be part of a second round of coverup examples which I plan to add to the coverup section toward the end of the year. I'll be giving a seminar at the Paradise Tattoo Gathering in Massachusetts this coming October 20-23 about taking coverups to the next level, where I'll be showing a number of new examples that aren't already in the Reinventing content. I'll be recording the seminar and adding it to the section, along with a number of guest artist contributions about coverups that will be incorporated as well. This coverup section is long overdue, and I plan on making it massive. Stay tuned.
Last but not least, some of you may have already noticed the Phil Garcia chapter that was added last week. I'll be making a bigger deal about this in coming weeks, but needless to say it's a great chapter by one of the most technically proficient tattooers that I've ever had the pleasure of working with. Phil and I are also working on a video tutorial which I hope to have ready by the end of the year, which will be quite a heavy piece of educational material. More updates on that as we get closer to completion.
Thanks, and I'll be in touch soon!
Guy Aitchison
www.reinventingthetattoo.com
www.tattooeducation.com
www.hyperspacestudios.com
www.guyaitchison.com