Biweekly Newsletter. 9/26/2016
Posted on Mon, September 26, 2016
September 26, 2016
Greetings from Reinventing The Tattoo!
Every other
Monday
I'm giving you a quick report of something that happened here at the studio in the past week. Recently we had a visit from Chris Hall, who tattoos in Pennsylvania and does some very fun abstract organic tattoo work. Recently Chris, while collaborating with a number of other artists for the upcoming Biomech Encyclopedia project, introduced the idea of using malleable materials such as plaster or crumpled paper as inspiration for organic abstract tattoo drawings. This past week was the second visit in an ongoing sleeve project that Chris and I have been collaborating on, giving us a chance to extend and refine the parts that we had established in the first visit a few months back.The design was composited together in Photoshop from a number of pictures that we shot of spikes and hooks that we had crumpled out of plain paper. We had to be mindful to photograph each part of the design with the lighting hitting from the right direction, so that when pieced together in Photoshop it would all make sense. The finished reference was then printed at full size based on a tracing of the client's arm, then hand-traced in two stages: first, Chris traced it onto the thin cover sheets for stencil paper (the white sheet, not the yellow one) using pencil but with no stencil paper in the mix. I then taped it down over stencil paper and traced it a second time. This gave both of us a chance to have our hand in the stencil, giving it a good balance of realism and style.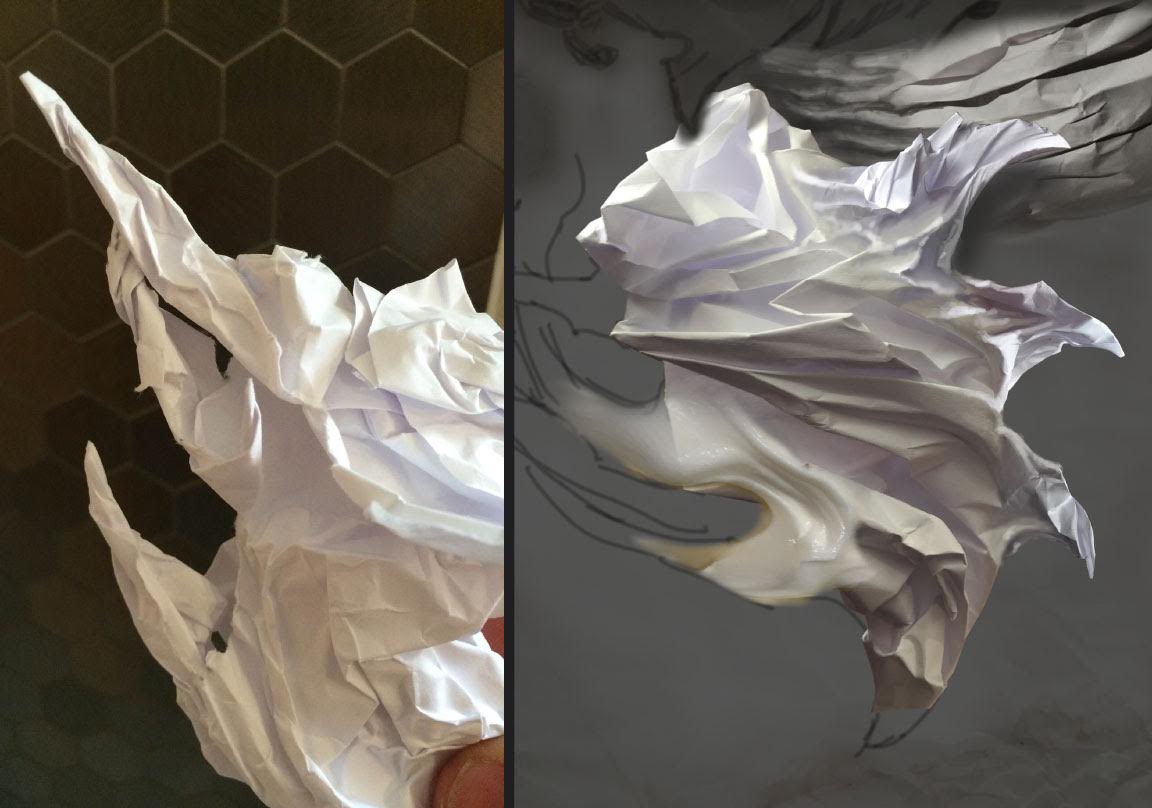 This particular client has a limited pain tolerance, so rather than the normal double day power session with both artists jamming, it was one day, moderate in length, one tattoo machine at a time. It'll take one more session to dial it in, but I'm happy with our progress. Then the next day I had a few hours to skim over the hand piece that I had recently done on Chris. It had healed and settled just fine, but since the opportunity was there, I took it. Like the crumpled paper piece, this tattoo has no outline, while still using strong areas of black. The no outline approach can always benefit from a second pass, especially when it comes to giving the piece a really readable structure.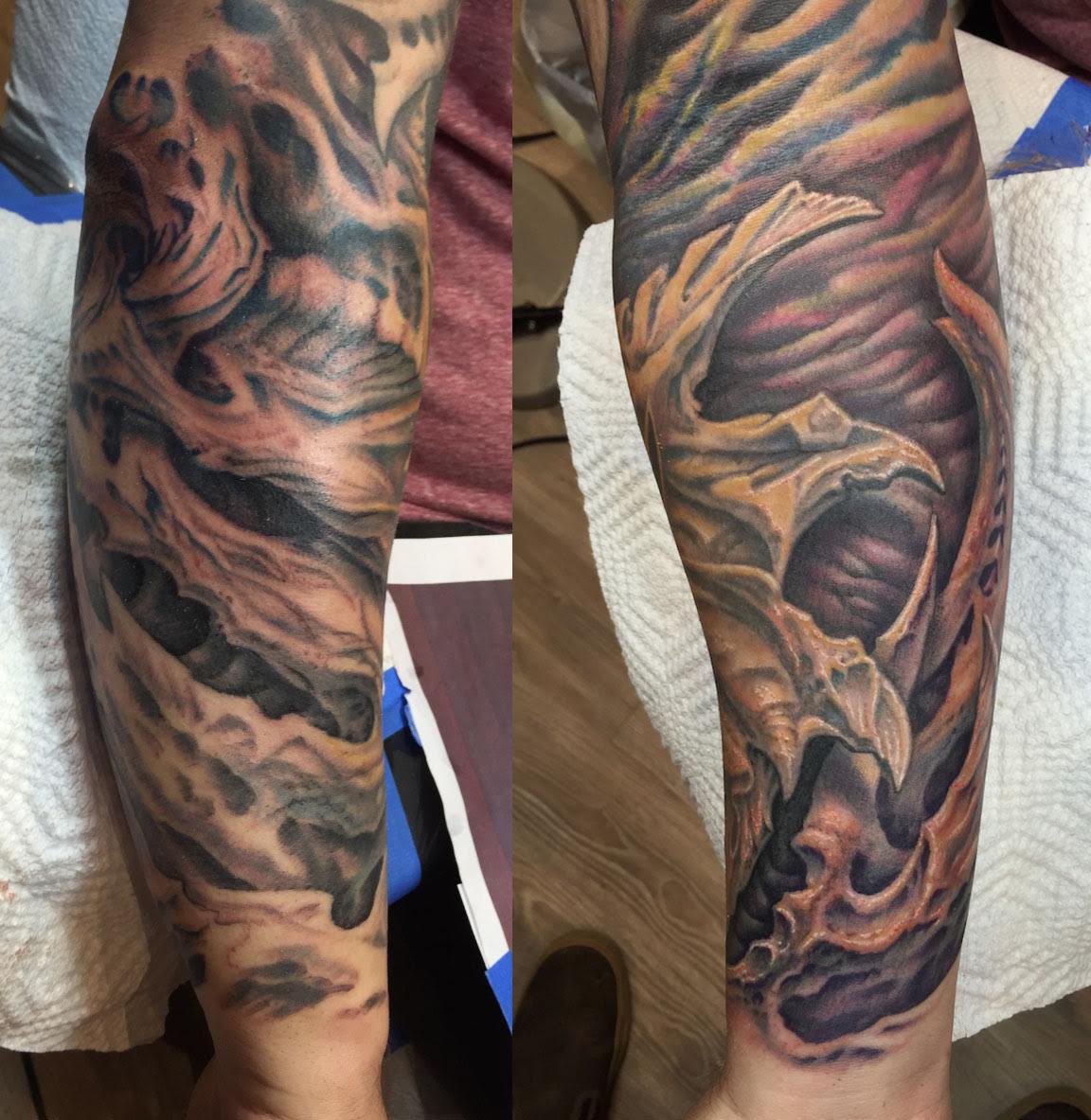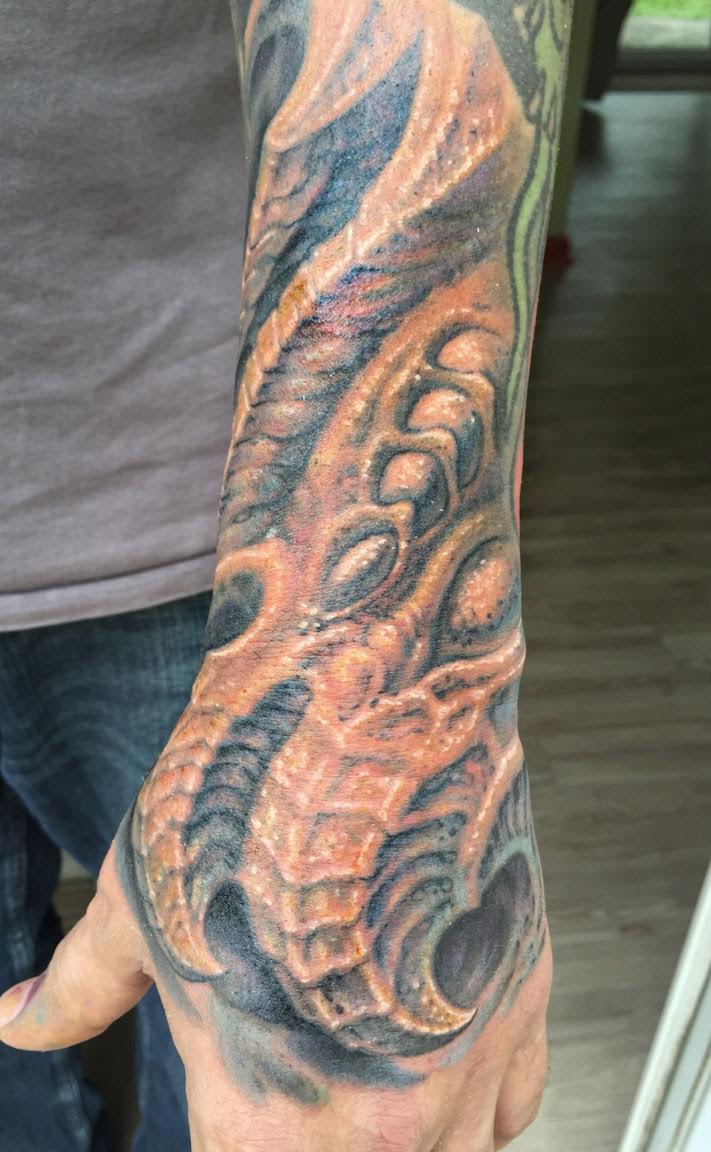 Meanwhile, back at the desk, I've just talked to my old friend Deano Cook about doing a chapter for Reinventing The Tattoo, possibly along with a video tutorial. Deano was one of the pioneers in color realism back in the early 2000s and continues to push the envelope with his distinctive marine realism, often based on photos that he shot himself on diving expeditions. Deano has always impressed me with his dedication in his craft, and I look forward to seeing what he and I can come up with to add to the Reinventing curriculum! In addition, I just got off the phone with Nate Beavers, whom many of you know from the current season of Inkmasters. Nate is a maestro of texture and surface detail, and he plans to write a chapter about his toolkit, along with another possible video tutorial. Both of these chapters will be cutting edge information from some of my personal favorites. And there will be plenty more guest chapters in the future from additional artists of this high caliber.
Thanks, and I'll be in touch soon!
Guy Aitchison